5 Day Mindset Makeover Challenge
Listen, I get how easy it is to get swept up in the scary, the negative, and the stress of our days right now. We've changed our entire routine, adding home education, working from your kitchen table, spouses in close quarters for WAY too long -- it's HARD right now!
We may not have control over what's going on in the world around us but we DO have control over how we choose to face each day. With that in mind, I want to give you some simple habits to incorporate into your mornings to help you start each day with a positive mindset.
The 5 Day Mindset Makeover Challenge will give you a short, simple task to do after you wake in the morning, and each day we'll add on to the day before. By the end of the week, you'll have a great morning routine to really set yourself up for success.
I know the "buts" and "what ifs" are creeping into your mind right now -- I know you feel overwhelmed, exhausted, stressed to the max. What if I told you that ADDING these habits into your routine will help ALLEVIATE all of that?
Give yourself this gift of time and focus on YOU taking 5-10 minutes each morning to invest in you!
Free 5 Day Mindset Makeover Challenge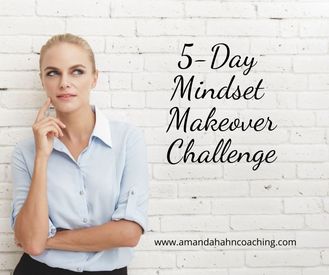 We're in this together and I want to support you through it. Let's do this❤
Schedule a Complimentary Discovery Session